Introduce Postcode
Introduce your Postcode
Tell us where you are
Check stock availability
Know your delivery options
Get faster checkout
Track your order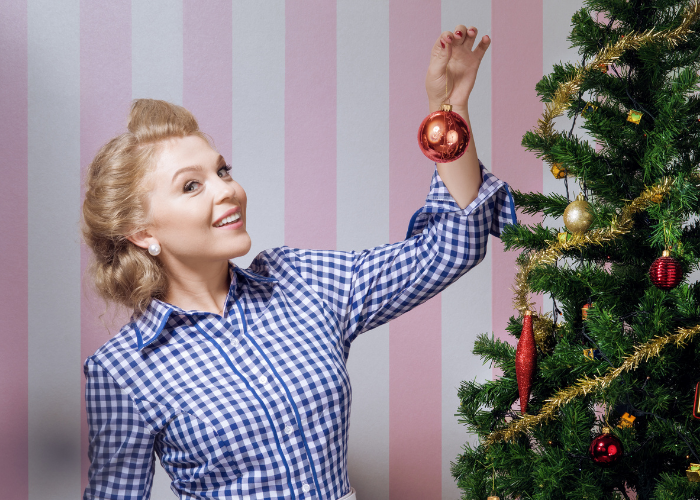 One of my favorite things to do every year which has now become a family tradition is driving or walking through neighborhoods and catching glimpses of festive Christmas Trees in living room windows, decked out with lights and tinsel adorning their branches. I think it's one of the few top things to do to get you in that Christmas spirit, along with obviously listening to all the top Christmas hits, including Michael buble's album (wink wink!) But I know sometimes it can be hard to know how to switch it up a little bit, we get stuck in the same routine of having the same Christmas trees every year in our home, well in this article I'm going to tell you how to decorate your Christmas tree and the different themes of tree we have at UpCountry!
Finding the perfect Christmas tree decorations doesn't have to be difficult. The best way is by understanding how all of these factors work together and following a few simple tips from us!
Step 1: Choosing a Christmas tree theme and hanging your Christmas lights!
When deciding on a theme, whether it's Traditional( red, green and gold), Nordic or one of my personal favorites is "Scandi" which encompasses a more natural festive theme.
Depending on where the placement of your tree is might determine which theme is more compatible with the surroundings.
Tree lights typically come on green or black wire strands to help blend in with the foliage. We have different light options to choose from whether you require warm white, cold white, or even multicolored, most of our lights also have many settings, battery or electric ranging from 50-1000 lights per box.
Its all about the placement of the lights, make sure you start from the top, a tip to make it easier make a knot to secure them at the top of the tree, then make your way down in a circular motion, making sure they are spread out evenly and place them towards the back of the tree not the foliage to create depth.
Step 2- Tinsel time!
Tinsel is often used when decorating a traditional themed tree and much to peoples disbelief you can get very tasteful tinsel! Here at UpCountry we have a wide range to choose from in our tinsel room. You don't want your tinsel to look too busy on your tree so make sure to use the right amount and space it out so you have enough room for your decorations.
Try and color coordinate your tinsel with the selection of baubles you will be using, so it all comes together and looks fantastic!
Step 3- Hanging your ornaments/ tree topper
Make sure to pick your biggest or favourite hanging decorations and place them on the tree first as they are the true stars of the show! You can then continue to place the medium or smaller decorations to fill up all the spaces on the tree. Referring back to step 1 and which theme you choose we have a fine selection in store or online.
For example if you are aiming for a nordic theme, we have stunning white and iridescent baubles and ornaments along with the ideal tinsel to match!
We have so many stunning tree toppers to choose from as well, we promise you will not be disssapointed!
Why not pay us a visit this year? Experience our winter wonderland! Bring the family, all the kids love it and we are sure you adults will love it too!